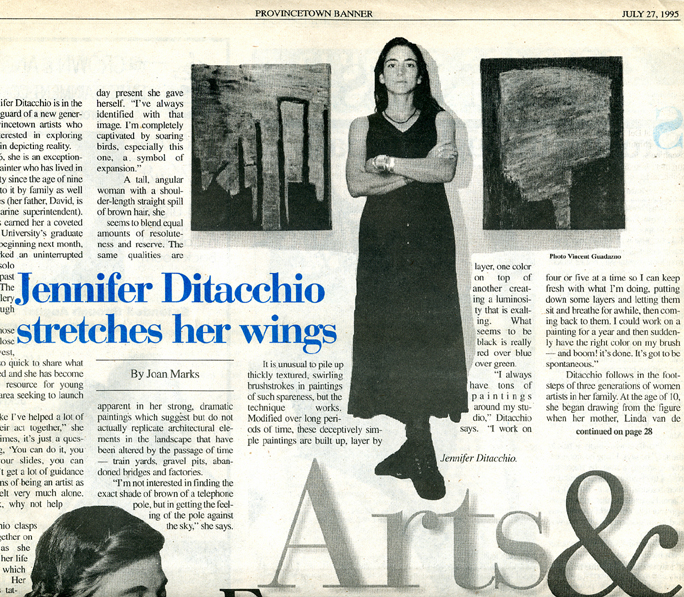 July 27, 1995
PROVINCETOWN BANNER
Jennifer Ditacchio Stretches Her Wings
by Joan Marks
Jennifer Ditacchio is in the vanguard of a new generation of Provincetown Artists who are more interested in exploring emotion than in depicting reality. At age 26, she is an exceptionally talented painter who has lived in this community since the age of nine and is rooted to it by her family as wall personal ties (her father David, is the town's marine superintendent). Her talent has earned her a coveted spot in Yale University's graduate arts program beginning next month, and has sparked an uninterrupted spate of solo shows in the past four years. The latest is at Gallery 349 through August.
Unlike those who play it close to the vest, Ditacchio is so quick to share what she has learned and she has been an important resource for young artists in the area seeking to launch their careers."I feel like I've helped a lot of artists get their act together," she says. "Sometimes its just a question of saying, 'You can do it, you can make your slides, you can show.' I didn't get a lot of guidance myself in terms of being an artist as a career. I felt very much alone. Now I think, why not help people?"
Ditacchio clasps her hands together on her knees as she speaks about her life and her art which sustain her. Her right wrist is tattooed with a Phoenix. It is a Birthday present that she gave herself. "I've always identified with that image. I'm completely captivated by soaring birds, especially this one, a symbol of expansion."
A tall angular woman with a shoulder length straight spill of brown hair, she seems to blend equal amounts of resoluteness and reserve. The same qualities are apparent in her strong, dramatic paintings which suggest but do not actually replicate architectural elements in the landscape that have been scarred by the passage of time-train yards, gravel pits, abandoned bridges and factories.
"I am not interested in finding the exact shade of brown of a telephone pole, but in getting the feeling of the pole against the sky," she says. It is unusual to pile up thickly textured, swirling brushstrokes in paintings of such spareness, but the technique works. Modified over long periods of time, these deceptively simple paintings are built up, layer by layer, one color on top of another creating a luminosity that is exalting. What seems to be black is really red over blue over green.
"I always have tons of paintings around my studio," Ditacchio says. "I work on four or five at a time so I can keep fresh with what I am doing, putting down some layers and then letting them sit and breathe for a while, then coming back to them. I could work on a painting for a year and then suddenly I have them right color on my brush and boom!it's done. It's got to be spontaneous."
Ditacchio follows the footsteps of three generations of women artists in her family. At the age of 10 she began drawing from the figure when her mother, Linda van de Visse, writer and illustrator of children's books, enrolled her in a class at the Provincetown Art Association and Museum. "I just never stopped painting and drawing," Ditacchio says.
Although she was drawn to the gallery scene in Provincetown, Ditacchio was not loathe to switch locales after completing elementary school. "Kids grow up really fast here. At least we had a bowling alley then, but there wasn't a lot to do," she says, No matter what was going on in my life I always had my painting to center me. It has given me a direction some others didn't have."
At the Putney School in Vermont, a small private, art-oriented high school on a farm, she started working in oils, making prints and stretching her own canvases. It wasn't until she attended Bennington College, however, that she found her true voice as an artists. "Until then, I was learning skills," she says,"Suddenly I knew what I was trying to say and was able to say it."
She is excited about the program at Yale and the opportunity to focus completely on art. "My work is constantly changing and evolving, and I hope it always does, she says. "I feel you should keep pushing the boundaries of what you're doing."